Greetings from the Cowbelle annals! Those of you who know me will know how inconguous a blog page is to my nature, but indeed, the time has come to go public with a few of my thoughts and wanderings. The depths of winter find me in quiet repose on the East coast, gathering thoughts, nurturing ideas, creating a brand new "Modern Day Homesteader" presentation and recharging my batteries for the upcoming year.
2012 ended with a flurry of activity. Late November saw my return to the Western Music Association's Annual Showcase and Awards ceremony in Albequerque. This in turn launched my glorious "Heroes' Hometown" tour, where I visited the birthplaces of some of the leading influences of my musical career: Woody Guthrie, Patsy Montana, Johnny Cash, Jimmie Rodgers and Hank Williams. The respective towns included Okemah, OK, Hot Springs, AR, Dyess, AR, Meridian, MS and Montgomery, AL.
The tour emerged as part of a natural progression of an eastern sojourn. It is my belief that there is no substitute for visiting the old haunts of your heroes when it comes to soaking up a bit of their magic. There is something about sitting at the booth in the diner where Hank penned so many of his great hits and writing a new song , or wandering along the lonely dusty roads where Johnny Cash grew up, down to the irrigation canal where he used to fish when he was a boy, that takes me to a time and place I long to visit. (please see related photos below)
This lineage of country music legends has few left who are still among the living. But as a stroke of good fortune, one of my favorites was playing just down the road from Johnny and Hank's homes - the great D-Wight Yoakam. Catching a couple of his shows along the way was icing on the cake!
The tour culminated in a concert in Savannah, GA, and then on to a one-week school residency at the Two Rivers Community School in Boone, NC. Here, I worked with about 200 students, K-8, building homespun instruments and leading jams with the kids playing their amazing creations. We also did some songwriting, and wrapped up the week with student performances for their peers and parents. Everyone involved was fabulous. The kids, parents, faculty and Art teacher, Kelly Snider were all integral to making this an incredible experience. I can hardly believe the instruments that some of the students came up with using buckets, poster tubes, rubber bands, twine and other household goods. I think I learned as much as anyone, and sure enjoyed soaking up the music of the Appalachian culture in this home town of another one of my heroes, Doc Watson.
That leads me to the Holidays. This time of year is traditionally my one period of sitting still, and I have been taking advantage of the reprieve to work on some new songs and to develop my "Modern Day Homesteader" presentation. This has been a work-in-progress for several years, stemming from my 15 year stay on a remote and rustic ranch.  Told through the eyes of a young greenhorn, the engaging slideshow incorporates narrative and song to capture a year in the life of the old-time homesteaders. I am looking very forward to sharing this show with venues across the country for years to come.
In a few days, I will be heading for Sierra Vista and the Cochise Cowboy Poetry Gathering. This will be my debut in the great state of Arizona, and I am excited to kick off 2013 with a route I have not yet traveled, traversing from the Northeast to the Southwest in my trusty Subaru RV "Froggie".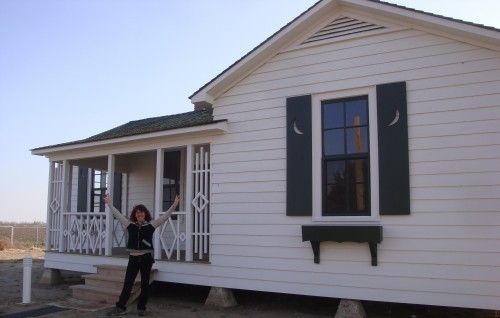 Boyhood home of Johnny Cash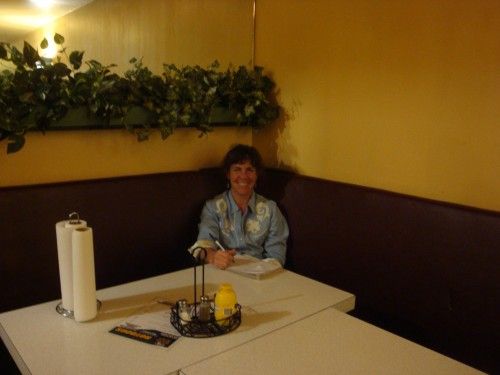 Hank Williams' favorite writing nook